Environmental Stewardship News
Sunset Community Foundation & Lambton Shore Community Vibrancy Fund Grants Helps To Keep an Old River Flowing 
The Old Ausable Channel is a very unique body of water which is not supposed to exist. Grand Bend was named for the "bend" in the Ausable River which originally made a sharp turn south when it met the sand dunes of Lake Huron. The River then flowed south from Grand Bend to Port Franks where it entered Lake Huron. In the early to mid 1800's the Ausable River was cut through at Grand Bend and redirected west to enter Lake Huron and create the harbour which exists at Grand Bend today. The former south path of the river was expected to dry up but Nature had other plans and continued to fill the old channel through underground springs. This unexpected event created what we now call the Old Ausable Channel which originates in Southcott Pines and flows south through Beach 'O Pines, Huron Woods, The Pinery Provincial Park and Port Franks. 
The Old Ausable Channel (OAC) has attracted the attention of numerous levels of government with environmental responsibilities. In recent years the federal Department of Oceans and Fisheries designated the OAC as a protected area due to the fact that it provides habitat for three endangered species of fish. The Ausable Bayfield Conservation Authority monitors the health of the OAC and is particularly concerned with the warming of the water and declining oxygen levels as these two factors impact the rivers ability to sustain the unique flora and fauna found along its path. The OAC helps to support one of the few remaining Oak Savannahs left in the world. The Old Ausable Channel is a major factor in the natural environmental health of our community and it needs our help to survive. 
Southcott Pines Park Association, through their Environmental Stewardship Committee, is working to revitalize and maintain the OAC so it can continue to support the fragile ecosystem surrounding it. To this end we are using the Foundation's grant to purchase aerators which are installed along the OAC to increase the oxygen levels vital to the aquatic life in the OAC. We are also acquiring native plants to install along the river to strengthen the river bank, control erosion and provide shade. The past three years extensive energy has been put into manually removing an invasive water plant, Eurasion Milfoil, which is choking out the natural vegetation and contributing to the lower oxygen levels.  All of the work being done is in collaboration with the Ausable Bayfield Conservation Authority.
The SPPA believes the work we are doing to enhance and support the OAC, which originates in our community, will benefit our community and those down stream by ensuring the OAC remains a vital natural habitat and a source of human recreation. The trail which we maintain along the OAC is open to the public to use at their own risk, for them to experience and appreciate this unique natural area. We deeply appreciate the support provided by the Sunset Community Foundation and the Lambton Shores Vibrancy Fund towards our efforts to sustain the OAC and the surrounding forest.  
---
Portion of streambank along Old Ausable Channel Restored
"Root systems can reinforce bank material up to twenty-thousand times more than equivalent sediment without vegetation" (Knighton, 1998)
Ausable Bayfield Conservation has completed the first phase of a streambank restoration project in partnership with Ontario Streams and Southcott Pines Park Association (SPPA). Staff from the three organizations completed the restoration work on October 1, 2020. "It was exciting to work with the Southcott Pines community on this project," said Rosalind Chang, Healthy Watersheds Technician with Ausable Bayfield Conservation Authority (ABCA). "We were pleased to complete the first phase of the stream restoration project." The restoration of more than 100 feet (36 metres) of riverbank will help to reduce erosion, protect water quality, and protect species at risk fish and turtle species in the important Old Ausable Channel (OAC) ecosystem. The work supports implementation of the federally-approved Ausable River Action Plan (ARAP).
"The Government of Canada is dedicated to the protection and recovery of aquatic species at risk," said the Honourable Bernadette Jordan, Minister of Fisheries, Oceans, and the Canadian Coast Guard. "Through the Canada Nature Fund for Aquatic Species at Risk, we have partnered with the Ausable Bayfield Conservation Authority to protect the aquatic habitat in the Ausable River. We are excited to learn that phase one of the streamside restoration project has been completed. The restoration of streambanks to reduce erosion will mitigate one of the main threats to the fish species."
The work on the streamside project was made possible with funding from the Canada Nature Fund for Aquatic Species at Risk (Fisheries and Oceans Canada) and the dedication of SPPA, according to ABCA.
The first step in the project is to make an area along the channel bank where native plants can grow. "When we restore the streambank and reduce erosion this helps to keep the water clean and to reduce floating sediment and to limit turbidity," Chang said. "Restoring a streambank has benefits for property owners because soil won't wash away as much in a heavy rain." The buffer work completed in October will also make it harder for geese to walk up the bank. The buffer also helps to filter water runoff, reducing the amount of pollutants and chemicals entering the channel. Phase Two includes a proposed planting of native shrubs in the spring. "This vegetation provides habitat but it also shelters and provides shade for the water, keeping the temperatures cool," according to Chang. "Cooler temperatures often mean more oxygen in the water and that's something we need for the fish," she said. "Here in the Old Ausable Channel we do have problems with low oxygen and we want to do everything we can to increase the health of the channel."
Other current projects between SPPA and ABCA include a dissolved oxygen concentration study, as well as a long-term water sampling program to monitor nutrient levels.
To find out more about the restoration project please visit: oldausablechannel.ca, abca.ca or ontariostreams.on.ca.
Stream Bank Restoration
Click here for the link to this image  
---
THE OLD AUSABLE CHANNEL (OAC) – July 2020
Photo credit to Shirley Boyes
The new Bubbler Aerator is now functioning at the North end of the river. We have it on a timer system to work when the fountains are not. Results of adding more oxygen should be visible in a few months. The hope is additional oxygen will stop excessive growth and improve water quality. The 100 ft. tube extends from the compressor on the river bank down the middle of the channel toward the fountain aerator to the North (as seen in the pictures above). ABCA and our Environmental Stewardship Group are monitoring the area to see what changes occur. Thank you to the ABCA and Lambton Shores, the grants received help make this project possible. Thank you also to our amazing group of volunteers (some of which are pictured above: Owen Taylor, Robin Loader, Soren Petersen). Without you and the many hours you have worked on and in the OAC over the years, the channel would be inhabitable to many fish, plants, and all the many other species that live near and in the OAC. A special thank you to Terry and Josh for their skilled hands on the shore putting this project together.  Owen Taylor – Property Management Chair & Environmental Stewardship Committee
---
SOMETHING IS FISHY AT SPPA!
Ever wonder what is swimming in the Old Ausable Channel? I would like to introduce the Sun Fish to celebrate our Sunny Summer Days. The picture below of a sunfish show them nest building near the shore. The males swim back and forth creating turbulence to keep sand and silt off of the eggs. Sunfish are native to the Great Lakes and Ontario waterways
 Want to know more, click here https://www.natureconservancy.ca/en/blog/archive/somethings-fishy-here-comes.html
---
MAY 2020 ENVIRONMENT COMMITTEE UPDATE – Owen Taylor – In the picture above, you will see a single water bottle floating. This is the marker for the future sight of a new aerator that was purchased with funding from the Grand Bend Community Foundation and the Lambton Shores Grants. Our issue has been excessive growth in the Old Ausable Channel, especially in the summer months. Our area of the canal was dredged some 50 years ago but is now filling in rapidly. Due to many regulations, we are unable to dredge, but we have been working within the guidelines to regulate the water depth, which we have accomplished by controlling flow through the culvert at Pinedale and by keeping the culvert at Beach of Pines clear. This has worked as long as there are no other obstructions to flow further downstream. To maintain depth we have removed trees that have fallen into the channel and garbage (tires, cans etc.) Last fall we purchased pond rakes and took away a lot of the invasive milfoyle growth at the North end. Here we have established a test area which we are monitoring to see what effect we are having on the water. We put a floating dam 200 ft downstream to stop algae getting into the test area and are adding aerators to the test area. One a fountain type at the North end and the second a 100 ft submersible bubble tube. We hope by adding oxygen we will increase the decomposition of debris, stop the excessive growth and maintain a better depth in the channel that should help the water inhabitants survive. We are also planting additional native species plants along the river bank. 
---
SOUTHCOTT PINES NATIVE PLANTS – Your Environmental Committee wishes to remind our Southcott families of the importance of maintaining existing native plants on their properties and planting native species whenever possible to support our unique and rare ecosystem. For further information, and a list of native plants, please refer to the publication created by our local Ausable Bayfield Conservation Authority  " Living with Nature – A Landowner's Guide for Grand Bend" Below is an excerpt from the publication:  "The Grand Bend and Port Franks areas support rare oak savanna and pine-oak woodland communities that provide habitat for numerous provincially and nationally significant flora and fauna" "Property owners can play an important role in helping to preserve the oak woodland communities. Leaving areas of your property undisturbed and natural provides a refuge for plants and animals. When landscaping areas around your home, choosing to use native plants that are adapted to the local environment will compliment the habitat in surrounding natural areas"  
---
HELP SAVE OUR OAK TREES – Oak Wilt is a tree fungus which can kill a healthy oak tree within weeks. This disease has spread across Michigan and is likely to cross the St. Clair River into Lambton Shores. What is oak wilt? Oak wilt is a fatal fungal disease that affects oak trees. As the name implies, oak wilt causes leaves of affected trees to wilt and turn brown.  How is oak wilt spread? Oak wilt is spread from infected to healthy trees in two ways: 1. Through root systems from adjacent infected trees. 2. By certain kinds of beetles, which carry spores between infected trees, logs or even firewood, and  fresh wounds (such as pruning cuts) on unaffected trees. The activities of people, such as pruning during vulnerable times, or moving infected firewood, can cause new infections. For more information on how oak wilt is spread, and the life cycle of the beetle and fungus. See these link for more info: Tri-County Tree
Service – Grand Bend Ontario's Invading Species Michingan's Trees under Assualt – Oak Wilt
---
OAC Clean up – Sept 2019 – A small group of dedicated SPPA members recently put their backs into cleaning up the north end of the OAC (Old Ausable Channel).  With the aid of a long handled pond rake, we were able to remove several hundred pounds of invasive plants and decaying debris from the OAC. The river is suffering from depleted oxygen levels and accelerated growth of an invasive water plant which are having a negative impact on habitat for fish and other aquatic wildlife. This "pond rake" clean-up process meets Provincial and Federal guidelines provided it is conducted from mid-July through to the end of September. This process is slow and labour intensive (you need a good strong back). The manual removal of these items is similar to weeding a garden – hard work and seemingly endless – but it also has the least negative impact on the environment. A floating dam has been installed to isolate the clean-up area so it can be observed over the next year.
Old Ausable Channel – Want to know more about the OAC? Click on this link to check out a webpage dedicated to it.  
---
Native Plant Demo Garden July 2019 – HELP GROW OUR GARDEN – A demonstration garden of native plants has been established at the clubhouse for our members to view and enjoy. These plants were rescued by a volunteer organization in Sarnia (Aamjiwnaag Greenhouse) dedicated to saving plants from designated construction areas before work is begun. What a wonderful idea! Thank you to our amazing group of volunteers who worked their magic to create an eco-masterpiece
---
Tree Identification in Southcott – 2019
Your Environmental Stewardship Committee has starting tagging trees with their common names (see photos) to enhance our community's knowledge of our unique forest. Please do not remove any tags! We will need them for when we are ready to install more permanent signs with more information.  Watch for future posts regarding this project
---
Proposed Action Plan for Ausable River in Canada
The Ausable River supports one of the most diverse community of aquatic fauna in Canada.  At least 26 species of freshwater mussels and 85 species of fish have been found here.  Seven of eight turtle species found  in Ontario are found in the Ausable River watershed. Read more…
---
If You Find An Injured Turtle   Read more…
---
The Lake Huron Centre for Coastal Conservation
"The Lake Huron Centre for Coastal Conservation is a non-profit charitable organization established in 1998 with the goals of protecting and restoring Lake Huron's coastal environment and supporting a healthy coastal ecosystem."   Link to website…
---
Ausable Bayfield Conservation Authority
Mission
Protect, improve, conserve, and restore the watershed in partnership with the community.
Vision
Healthy watersheds where our needs and the needs of the natural environment are in balance. Link to website…
---
Newsletter:  December, 2018
The Environmental Stewardship Committee has been busy since our initial open meeting in October. Plans are being made for several projects to begin in the spring and on into the summer. A working relationship has been established with the Ausable Bayfield Conservation Authority who are excited to work with us on improving the river habitat (a spin off from this is a planned meeting with Fisheries & Oceans Canada this March regarding endangered species). Our neighbour communities, Beach O'Pines and Huron Woods have expressed interest in what we are planning and sharing ideas to preserve the natural environment which connects us.  Watch this site for educational and useful information as well as links to environmental sites.
Other plans being developed:
Demonstration garden at the clubhouse to showcase native plant species
Beach area spring cleanup, cigarette butt containers and signage, repair to breakwater groynes, create more space for bike and wagon parking, plant more dune grass north of gazebo
Tree and plant identification and tagging along paths
Riverbank and path spring cleanup
An open meeting is being planned again in late winter once we  have tentative dates for projects which will require member participation. A report summarizing our meeting with Fisheries & Oceans in March will be posted here as well as emailed to all our member contacts. As always, feel free to send me ideas and concerns at sppa@hay.net  Duncan Croft
LINK:  A BBC News video:
https://www.youtube.com/embed/yWOqeyPIVRo
Snag Tree
Here is a photo of a well used "Snag Tree" (aka Wildlife Tree) located beside our river tow path. Snag Trees are dead or dying trees which are still standing. These trees are necessary for a healthy forest as they provide habitat for hundreds of birds, small mammals, insects and fungi.
---
Lambton Shores Nature Trails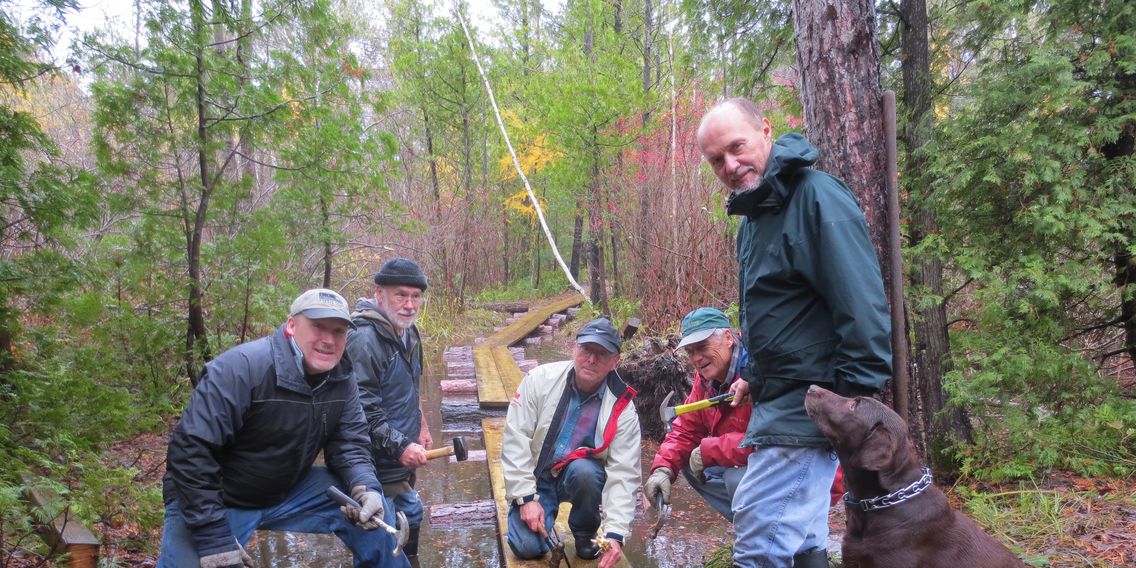 Lambton Shores Nature Trails (LSNT) was founded in October 2011 by a group of local nature and hiking enthusiasts alarmed by the ongoing destruction of some of the environmentally most significant natural areas by trespassing ATV's and Dirt-Bikes. From the start, mobilizing the landowners, providing free and safe public access via hiking trails, bike-ways or water routes was deemed to offer the best approach to save these 'Gems of Nature' for future generations.
To first  & foremost protect & preserve our remaining 'Gems of Nature' in LS&V by applying responsible means to eliminate motorized vehicles from these areas identified as environmentally sensitive  

To encourage residents, cottagers & visitors of all ages to explore & appreciate our 'Gems of Nature' in every season.